Give your Auckland property an instant life with Ready Lawn
Ready Lawn is a more expensive choice than hydro-seeding or spray on grass, but it gives immediate results and looks great from the very start.
The experts at It's Grass know just how to prepare your ground and lay your instant turf for the best results, so why not save yourself the hassle of trying to cut, lay and bed down Ready Lawn yourself and leave the hard work to us.
Contact us to arrange a quote or to discuss our other grass options including hydro-seeding and our extensive Auckland-wide lawn care service.
Why choose Ready Lawn for your Auckland garden?
While Ready Lawn is more expensive, choosing instant lawn for your garden has many benefits including:
No need to stay off your lawn – with instant grass you can walk on the lawn pretty much as soon as it is laid so no yelling at the kids to keep off the grass.
No worry about losing seeds – if you use grass seed you need to protect it from wind, rain run off and birds while it germinates – Ready Lawn doesn't have these issues.
Accuracy of laying – instant lawn can be cut to size to fit your exact requirements and you can see straight away if it looks right.
Wider growing options – seed can often only be sown at specific times but laying instant lawn can be done during a longer season.
Even coverage – Ready lawn means no worrying about whether your seeds have covered the area well and evenly.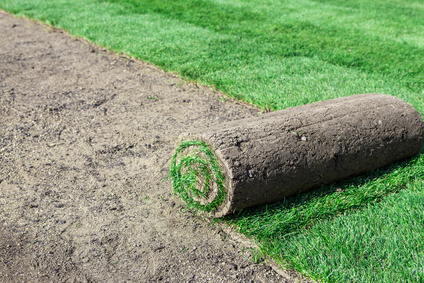 Choose grass wool blankets for a natural alternative
Grass seed wool blankets are a natural alternative to roll-on instant lawn.
The wool blankets offer a great growing surface with a weed resistant barrier and a slow release of nutrients. The blankets are sown with your choice of grass seed and laid on a well-prepared surface.
The wool is 100% biodegradable and contains natural sheep manure to provide rich and ongoing nutrients to feed your lawn. It's the perfect, natural, Readylawn alternative.
Get your instant lawn laid right with help from It's Grass
Even though Ready Lawn is easy and an instant option for your grass needs, it still pays to get it laid by a professional rather than trying to do it yourself.
The team at It's Grass specialises in laying the perfect lawn whether you are choosing Ready Lawn or another option such as a hydro-seed lawn. It's Grass doesn't focus on anything other than grass – our team doesn't plant trees or put in patios, we simply lay grass and grass seed and we do it well.
Our team can also carry out professional lawn care services to ensure your grass continues to look lush and green for years to come.
Contact us today to arrange a quote for Ready Lawn at your Auckland home.
Get a quote for your new lawn!
Fill in the form or phone us on 0800 55 77 00