ARTIFICIAL TURF FOR HOMES AND SPORTS AREA
Artificial Turf has come along way in recent years. The turf produced now is of excellent quality, hard wearing and fit for purpose.
So much so that it is getting harder and harder to distinguish it from the real thing.
Artificial turf is a real alternative to actual live grass for many reasons and especially in those areas around the house or yard where grass just wont grow. Shady areas, confined areas, service areas, animal exercise areas or kids sports areas etc. Artificial turf is a real alternative.
Hard wearing and attractive, low maintenance and always looking good.
Even temporary coverings for a social event, sports event or any event where an area needs to be transformed quickly and easily with minimum fuss, which can then be returned to its former state after the event.
For permanent, well used and high traffic areas it is essential that the base preparation is of a sufficient standard to produce the best results for your Artificial Turf installation.
Have a look through some of the pictures to get an idea of how areas can be transformed.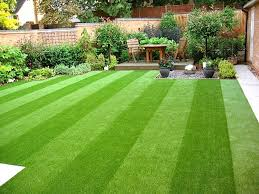 For Back Yards & Pool Areas
Transform your backyard or pool area. You want to avoid vegetative matter from blowing into the pool and blocking filters. 
It's Grass can turn your Untidy Area to a Neat, Tidy and Attractive Space. The Funny little areas in a Windy, Sunny and Harsh Position are often better done in Artificial Turf. Why not turn that unused corner of yours into the putting green you have always wanted. We can provide you with excellent quality, hard wearing and fit for purpose Artificial Turfs. Contact Us Today. It's Grass – It's that Simple!
Get a quote for Artificial Turf!
Fill in the form or phone us on 0800 55 77 00