Grass Irrigation System Auckland
Keep your grass looking great with a lawn irrigation system
If you are going to the expense of laying a new lawn, then you want your grass to keep looking lush for years to come so you can enjoy your outdoor area. It's Grass can design and install a new sprinkler system to make watering your garden simple – just set your timer and let the system do its job.
Our experienced team can advise you on the best sprinkler system for your lawn and for your outdoor area, whether you need just one sprinkler or pop up taps in multiple locations to fully cover your grass and also water your flower beds or veggie patch as well.
Contact us to talk about installing an irrigation system at your property or to discuss Ready Lawn or turf options.
Enjoy the benefits of an irrigation system
Installing an irrigation system does involve an initial outlay and can cause some disruption in your garden – although if you are installing a sprinkler system at the same time as you install new Ready Lawn or carry out hydroseeding. However, the benefits of garden irrigation outweigh any cost. With a professionally installed irrigation system you will:
Save time – instead of spending your precious time watering your garden, you can just sit back and let the system to everything for you.
Save water – set an irrigation system to water at certain times of day when water run off and evaporation is less likely and only water the areas needed
Get even watering – a professionally installed irrigation system will give you even watering where your garden really needs it
Regular watering – a sprinkler system can be set to water even while you are on holiday, so you don't have to worry about your garden drying out.
Save money – by watering effectively, you will save on your water bill in the long-term.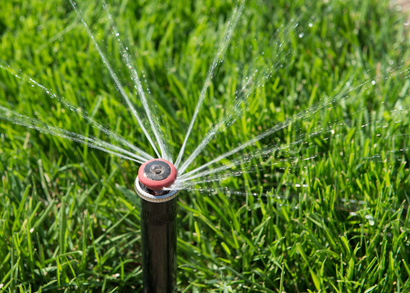 It's Grass are your irrigation system experts
If you are planning to install a sprinkler system, take advantage of the expertise at It's Grass and let our team plan and install the perfect irrigation for your garden.
With years of experience in the lawn growing business, our team knows exactly how to help you get the best from your lawn. Combining an irrigation system with Ready Lawn or hydro-seeding laid by us will ensure you are looking at lush green grass for many years.
Contact It's Grass today to arrange a quote for a grass irrigation system at your place, or talk to us about instant turf or grass seed to bring your residential area, commercial grounds or sports ground back to life.
" The 'Spray-on Grass' is an awesome product
and the service was great!
It works very well and the easy use is convenient."
B & J BIRDLING
Epsom


Get a quote for your new lawn!
Fill in the form or phone us on 0800 55 77 00